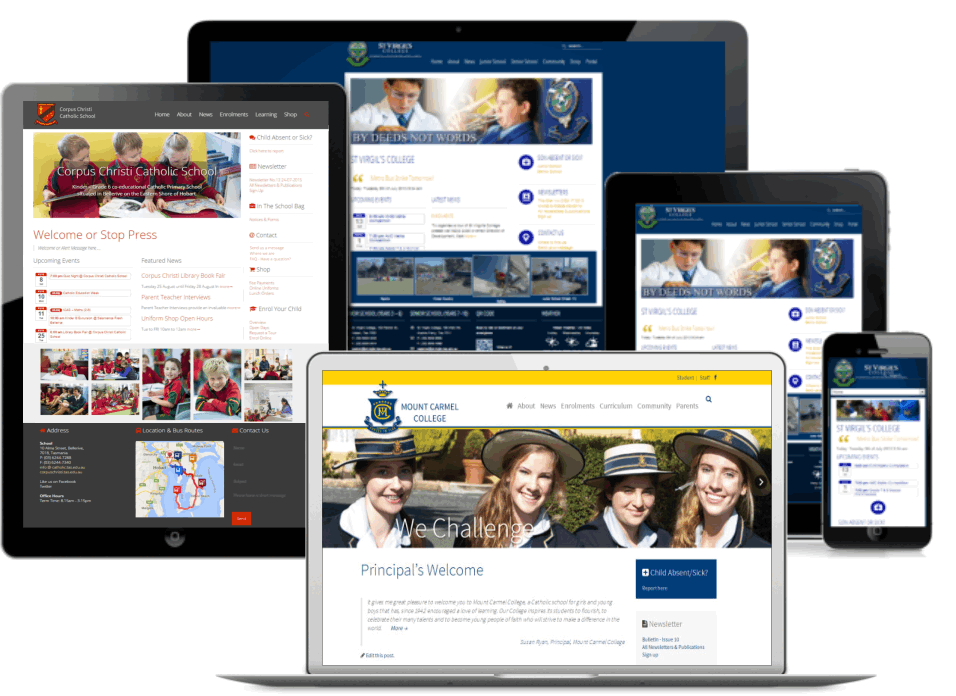 The Web Portal is packed with features
So much more than just a website.
Everything you need to empower & engage your school community.
Your new layout & design tailored to your school's branding & colours is smartphone & tablet ready.
Usually, it takes around 150 hrs (2-3 months) to brand & customise your new web portal to your own, specific needs & requirements.

All features at a glance
---
FrontPage @ glance
Real-time search
Absent reporting
Online enrolments
News & alerts
All curricular & co-curricular information
Bus routes & booking system
Virtual campus tour
Sport/activity/event hub with ground locations & easy game "On/Off" notifications
Tuition sign-ups
Hand-tuned site for enterprise scaling
Newsletter system

HTML email & online
Branded template
WYSIWYG editor
Link to news posts on your website
Subscriber can manage their details
Stats dashboard (Who opened & clicked)

Calendar

Parents can subscribe to it
Calendar can be feed from School intranet calendar
Custom color coordinated categories
Fully branded UV index indicator
RSVP
Photo & video management system
Document management system
Online lunch & uniform orders
Powerful knowledge base & FAQ
Facility hire
In the school bag
Online payments (fees, uniform, lunch, tuition, excursions etc…)
What's the difference between a Website and a Web Portal?
A Web portal is most often a specially designed web site that brings information together from diverse sources in a uniform way. Usually, each information source gets its dedicated area on the page for displaying information (a portlet); often, the user can configure which ones to display.
Web portal is a vehicle by which a user gains an access of driving broad array of resources, while a website is a destination in itself. Portals and websites are distinct entities which often overlap and complement each other. A web portal and website should be strongly linked together, but they should not replace each other. Website represents an organization to outside world, but a portal provides multiple user roles with a common access point.
A Web Portal refers to a website or service that offers broad array of resources and services such as email, forums, search engines and online shopping malls. It's an organized gateway that helps to configure the access to information found on the internet. Web portal applications offers consistent look and feel with access control &procedures for multiple applications and databases. Some of the web portals are AOL, i Google, Yahoo and even more.
A Website refers to a location on the internet and a collection of webpages, images, videos which are addressed relative to a common Uniform Resource Location (URL). It's nothing but a domain name hosted on a server which is accessible via a network called internet or private local area network. Owning a website becomes an essential part for any businesses and company with no web presence is just running the risk of losing the business opportunities.
Look No Further. Get Started Today